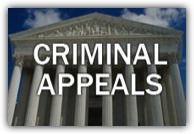 The Law Offices of Alan Fenster, in conjunction with Mr. Jerald Newton, specializes in the preparation and filing of state and federal criminal appeals, including habeas corpus and other extraordinary writs. Mr. Newton has specialized in an appellate practice for the past 35 years, and is known as the "go-to" lawyer for many criminal lawyers in Los Angeles who require the assistance of an experienced appellate attorney. Should you require the services of a criminal appeals lawyer, please contact Alan Fenster to schedule a free consultation as to how he might be able to help. Mr. Fenster can review your trial record and ascertain whether you have viable grounds to appeal your conviction or your sentence.

PENDING APPEAL
Defendant was convicted of first degree murder of her husband and attempted murder of her son after a protracted jury trial in Orange County Superior Court. Defendant was represented by another lawyer and then hired Alan Fenster to process her appeal. All briefs have been filed and we are awaiting oral argument and the final opinion of the Court of Appeals.

The issue on appeal deals with the use of chemotherapy for breast cancer and related drugs used to ameliorate the side effects of such chemotherapy. In this trial various experts testified that Defendant's mental functioning was so impaired by the drugs she was taking that she could not form the necessary malice or other intent to murder and thus the jury should have been instructed as to involuntary manslaughter and also unconsciousness as a complete defense to murder. The court refused to give any instructions relating to manslaughter or unconsciousness, so the jury had no choice but to convict defendant of the murder charges. The appeal is thus based on the court's refusal to give proper instructions to the jury. This case is particularly interesting because it follows the movie script utilized in Side Effects by Steven Soderberg. The heroine in that movie was charged with murder but raised the defense that she was not legally responsible because of the drugs she was taking for a medical condition. Of course, the movie had a surprise ending much different than this real life case.

LATEST APPEAL
Jerald Newton and Alan Fenster recently completed a federal appeal arising in the Eighth Circuit from a jury trial involving convictions for drug conspiracies and 2 counts of murder. U.S. v. Dale, 614 F.3d 942 (8th Cir. 2010). Significant issues presented were 1) whether there is a conflict between Gray v. Maryland and Crawford v. United States when a confession is made to an inmate state agent specifically sent to obtain a confession from a defendant who is in custody on another matter; 2) whether elimination of cross examination regarding impeachment of a witness on another pending murder involving the witness and the co-defendant violated Delaware v. Van Arsdall; and 3) whether the evidence admissible against the defendant was sufficient to establish the two murders. One member of the 3 judge panel did agree with our arguments, the Panel affirmed the convictions and the Supreme Court denied our Writ of Certiorari.
Following is a partial list of criminal appellate matters Mr. Newton has handled during his career, some of which were argued in conjunction with the Law Offices of Alan Fenster.

Significant Appellate Cases (Handled by Jerald W. Newton, or Mr. Newton and Alan Fenster)

NARCOTICS:
United States Supreme Court
– Bowen v. United States, 422 U.S. 916 (1975) Question of retroactivity of temporary checkpoint stop

United States Court of Appeals
– United States v. Stewart, 831 F.2d 298 (6th Cir. 1987) Search of defendant's luggage at airport ruled illegal
– United States v. Maxwell, 565 F.2d 596 (9th Cir. 1977) Roving patrol/temporary check point unconstitutional
– United States v. Lucas, 37 F.3d 599 (6th Cir. 2004) Admission of prior sexual assault to show nervousness and prior acts evidence for non defendant
– United States v. Reese, 775 F.2d 1066 (9th Cir. 1985) Multiple firearms convictions reversed and sentence vacated for improper ex parte communications
– United States v. White, 890 F.2d 1413 (8th Cir. 1989) Initial detention from exiting airplane illegal
– United States v. Martinez, 946 F.2d 100 (9th Cir. 1991) Illegal sentence increase for amount of drugs
– United States v. Pace, 709 F. Supp. 948 (C.D. CA. 1989) Plain touch providing probable cause

MURDER
– People v. McDonald, 37 Cal.App.4th 1838 (1995), subsequently unpublished Second degree murder conviction reversed
– People v. Kim, B119909 (1999) Second degree murder conviction reversed

WHITE COLLAR CRIME
– United States v. Mouzin, 785 F.2d 682 (9th Cir. 1986) Insufficient evidence of currency statute violations and "drug ledgers" improperly admitted
– United States v. Wood, 57 F.3d 733 (9th Cir. 1995) Case remanded for failure to disclose exculpatory evidence and eventually dismissed
– United States v. Dadanian, 856 F.2d 1391 (9th Cir. 1988) Reverse mail fraud and gambling convictions
– United States v. Duran, 41 F.3d 540 (9th Cir. 1994) Sentence reversed for improper upward adjustment

If you are in trouble with the law, contact criminal attorney Alan Fenster immediately! Call our Beverly Hills office at (310) 273-3661 to schedule a free initial consultation.

Alan Fenster represents clients in Los Angeles, Beverly Hills, Santa Monica, Culver City, South Bay, Glendale, Pasadena, the San Fernando Valley, and elsewhere in California as needed.