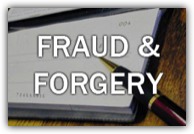 Generally this category involves the more sophisticated types of crimes. For example, I had a client who worked as a controller for an import company, and because of his access to the bank accounts and financial records of the company he was able to steal approximately six million dollars from his employer before his activities were discovered. He forged signature authorizations, checks, wiring instructions and various other documents to enable his crimes, and of course, like most sociopaths he convinced his employers he was honest and trustworthy.

What is particularly interesting about this case is that his employer was also engaged in certain financial activities, which involved tax fraud. He cooperated with the government and supplied information about the illegal activities of his employer, which resulted in his receiving a downward departure in the sentencing guidelines [this was a federal case] and he ended with a very minimal punishment. Yes indeed, sometimes crime really does pay, especially when you hire a smart and creative lawyer.

If you are in trouble with the law, contact criminal attorney Alan Fenster immediately! Call our Beverly Hills office at (310) 273-3661 to schedule a free initial consultation.

Alan Fenster represents clients in Los Angeles, Beverly Hills, Santa Monica, Culver City, South Bay, Glendale, Pasadena, the San Fernando Valley, and elsewhere in California as needed.