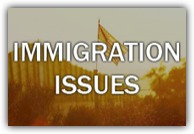 More than 50,000 aliens were removed from the United States during the past year because of one or more criminal convictions, and the number of aliens facing removal is still growing. In most instances, the only way to avoid removal based upon criminal conviction is to vacate the conviction and expungement is effective in only limited situations.

Alan Fenster, a former prosecutor for the Los Angeles County District Attorney's office, has practiced criminal law in both Federal and State courts throughout the United States for the past thirty years. Mr. Fenster specializes in the presentation of habeas corpus-type motions designed to vacate convictions for non-U.S. citizens facing removal from the country.

Mr. Fenster works with the preeminent immigration lawyer in Los Angeles, Mr. Houman Varzandeh, to insure that motions to vacate guilty pleas accurately incorporate applicable immigration statutes. If you require an expert immigration lawyer, please contact Mr. Varzandeh at 213-381-1380.

Mr. Fenster has successfully vacated numerous convictions for non-citizens facing deportation:

– Non-citizen client convicted of prostitution as a young man, as a result unable to become a citizen of the U.S. Motion to vacate conviction granted and case dismissed. Will now become a citizen. [L.A. Sup. Ct. #3HL01248]

– Non-citizen client, about to graduate college with a 4.0 GPA, was facing deportation because of a possession for sale of cocaine conviction. Conviction vacated, client is saved.

– Non-citizen convicted of child annoying/molesting, a registerable sex offense, in 1992. INS picked him up in 2009 and placed him in deportation proceedings. Motion to vacate was granted, and client, who has a brand new baby, is now released from custody and applying for citizenship.

– Non-citizen convicted of Assault with Intent to Commit Great Bodily Injury in 1993. Green card expired, Client in U.S. illegally. Motion to Vacate Conviction granted. Client is now applying for citizenship.

– Non-citizen pled guilty to insurance fraud involving $31,000 in 1995. INS found out about conviction, and started deportation proceedings. Guilty plea vacated, and client is now applying for citizenship.

– Non-citizen pled guilty in two different cases to possession of a controlled substance, not marijuana, which required his deportation from the United States. Both convictions have now been vacated, and the client can become a U.S. citizen.

– Non-citizen pled guilty to Assault with Intent to Commit Great Bodily Injury and Battery with Great Bodily Injury, both aggravated felonies. Although later reduced to misdemeanors and expunged, the convictions still prevented the client from becoming a U.S. citizen. Mr. Fenster was able to vacate both convictions and client is now free to become a citizen.

– Non-citizen convicted of grand theft in 2003. Signed a plea agreement which advised him that a conviction would result in deportation. Because the judge did not specifically advise the defendant of immigration consequences, the conviction was vacated.

– Non-citizen client convicted of Assault with a Deadly Weapon in 1982. Married with two children and living a quiet, law-abiding life, INS discovered the conviction and sought to deport him as an Aggravated Felon. Mr. Fenster successfully vacated the conviction, and INS is now history.

– Filipino immigrant, married with three American children, facing deportation because of conviction for assault with intent to commit great bodily injury. Conviction vacated, client is now able to stay in the US. for the rest of his life.

– Represented a client facing deportation based on 3 separate criminal convictions. All 3 convictions were vacated.

– Eliminating client's deportation problems.







If you are in trouble with the law, contact criminal attorney Alan Fenster immediately! Call our Beverly Hills office at (310) 273-3661 to schedule a free initial consultation.

Alan Fenster represents clients in Los Angeles, Beverly Hills, Santa Monica, Culver City, South Bay, Glendale, Pasadena, the San Fernando Valley, and elsewhere in California as needed.