FEDERAL & STATE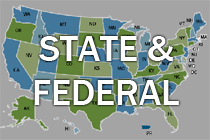 In the dark ages of American history, like 50 year ago, federal criminal prosecutions were rare. Only the most serious crimes were prosecuted in federal court. However, with the advent of the war on drugs, more and more routine drug cases ended up in federal court, where the sentences can be huge. A perfect example is the sale of small amounts of crack cocaine, usually by African-American men. The mandatory minimum sentences for such offenses in federal court could be ten years, twenty years, or even life depending on the offender's criminal record, while in state court the punishment might only be a few years. This is why federal penitentiaries are full of low-level prisoners.

Federal prosecutors are usually more skilled then state prosecutors, and have much more time to develop their cases. The feds never use preliminary hearings to file charges, unlike state courts they will always use the grand jury system, although sometimes state prosecutions will also use grand juries if it involves complex and or high publicized crimes. Dealing with grand jury prosecutions is very tricky, and requires a skilled experienced defense attorney.
If you are in trouble with the law, contact criminal attorney Alan Fenster immediately! Call our Beverly Hills office at (310) 273-3661 to schedule a free initial consultation.

Alan Fenster represents clients in Los Angeles, Beverly Hills, Santa Monica, Culver City, South Bay, Glendale, Pasadena, the San Fernando Valley, and elsewhere in California as needed.