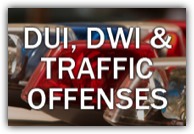 In California, driving with over 0.08 percent alcohol in your blood is a crime. Driving with a drug in your system which appreciably affects your driving ability is also a crime, but this is a much more difficult crime for the government to prove. The issue is how to prove whether your driving ability has been appreciably affected, for example, Adderall, which contains amphetamine, is often prescribed by doctors for people with attention deficit disorders. Having attention disorders can make a person a poor driver, so using Adderal may mitigate such issues and actually improve driving ability. So even though a driver might have a significant amount of amphetamine in his system if he has been prescribed Adderall he is actually a much safer driver. This issue also applies to various other drugs that might be found in a driver's blood but actually do not impair driving. Only a competent lawyer can help a defendant who is charged with this type of DUI or other serious traffic offense.

If you are in trouble with the law, contact criminal attorney Alan Fenster immediately! Call our Beverly Hills office at (310) 273-3661 to schedule a free initial consultation.

Alan Fenster represents clients in Los Angeles, Beverly Hills, Santa Monica, Culver City, South Bay, Glendale, Pasadena, the San Fernando Valley, and elsewhere in California as needed.